Please complete and return the IOL Power Calculation form. For the best possible results and shortest turnaround time include ALL available data for BOTH eyes even if you are only planning to operate on one. Include the refractive target, preferred model of IOL, IOLMaster or other biometry reports, topography, postoperative data for the fellow eye and a short note describing your plan and concerns.
Send data by email rather than fax if possible. There is an email button on the data form that will send the data to us as an xml file. If you must fax data please set the resolution to Fine, High or Best as described in the user manual.
Send the topography data in color by email. If sending Zeiss Humphrey Atlas Data include a numerical view such as that shown here.
Finally, please make sure the every space on the form contains legible and accurate data.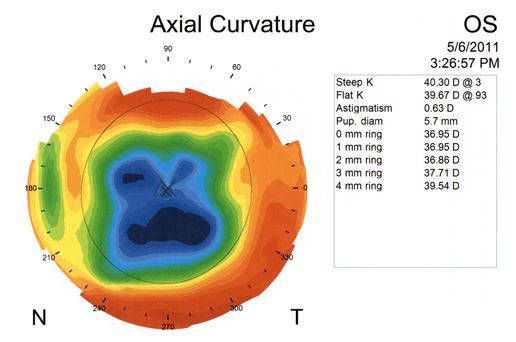 After completing the form click the "Submit by Email" button to forward the data to PreVize.